Mans Wear
Men's Wetsuit Tops Buying Guide: Choosing The Right Fit And Features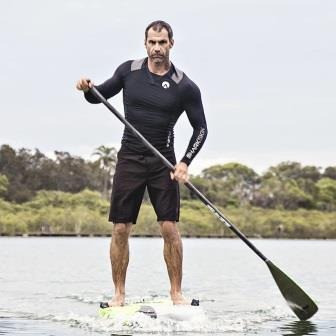 When it comes to water sports such as surfing, snorkelling, or diving, having the appropriate equipment may make or break your performance and comfort. Men's wetsuit tops are an essential piece of equipment that can help keep you warm and protected in cold water conditions. However, choosing the right fit and features for your wetsuit top can be a bit challenging if you're not familiar with the options available. We will walk you through the important considerations in our buying guide to help you make an informed selection.
Determine The Purpose
The first step in selecting the perfect men's wetsuit top is to consider the specific activity you'll be using it for. Different water sports require different types of Mens Wetsuit Tops. For example, if you're a surfer, you'll need a wetsuit top that provides flexibility and freedom of movement. On the other hand, if you're planning to dive in cold water, you'll want a wetsuit top with added insulation.
Fit And Sizing
A well-fitting wetsuit top is crucial for comfort and performance. When trying on a wetsuit top, pay attention to the following:
Tightness: A wetsuit top should fit snugly against your body, with minimal gaps or wrinkles. It should provide a good seal to keep water out and maintain your body heat.
Range Of Motion: Make sure that the top of your wetsuit lets your shoulders and arms move easily. Flexibility is essential, especially for activities like surfing.
Length: The length of the wetsuit top should cover your torso adequately and overlap with the wetsuit bottoms to prevent water from entering.
Neck Seal: The neck should have a comfortable but snug seal to prevent water from flushing in.
Zippers And Entry: Consider the type and location of zippers or entry systems. You can choose between a back-zip, chest-zip, or front-zip style. Each has pros and cons when it comes to how easy it is to get in and out and how well it keeps water out.
Material And Thickness
The material and thickness of your wetsuit top are critical factors in determining how warm and comfortable you'll be in the water:
Neoprene: Neoprene is the most common material used for wetsuit tops. It provides excellent insulation and flexibility. The thickness of neoprene can vary, typically ranging from 1mm to 3mm. Thicker neoprene offers more warmth but may restrict
Seams: Pay attention to the seam construction. Seams can be flatlock stitched, glued and blind-stitched (GBS), or taped. GBS seams are the most effective at keeping water out.
Lining: Some wetsuit tops come with lining materials that wick away moisture from your skin, enhancing comfort and warmth.
Additional Features
Consider the following features that can enhance the functionality of your wetsuit top:
Hood: Some wetsuit tops come with an attached hood for added head and neck protection in cold water. Hoods can be particularly useful for divers.
Thumb Loops: Thumb loops help keep the sleeves in place and prevent water from entering.
Chest Or Side Panels: Some wetsuit tops feature additional panels that provide extra insulation in key areas, such as the chest or sides.
Zipper Locks: Zipper locks or anti-flush systems help minimize water entry through the zipper.
Durability: Look for reinforced knee pads or other areas that may experience wear and tear.
Try Before You Buy
It's highly recommended to try on a wetsuit top before making a purchase. This allows you to assess the fit and comfort, which can vary between brands and models. You can get an idea of how the wetsuit top fits by looking at the manufacturer's size chart and reading reviews from other customers if you're buying it online.
Conclusion
Choosing the right men's wetsuit top is essential for an enjoyable and safe experience in the water. By considering the purpose of your wetsuit top, ensuring a proper fit, evaluating the material and thickness, and exploring additional features, you can make an informed decision that suits your specific water sports needs. Remember that investing in a high-quality wetsuit top will not only keep you warm but also enhance your performance and overall water sports experience. So, gear up, stay warm, and enjoy your time in the water!